Self-service terminal "Signal-1"
PURPOSE
Terminal "Signal-1" - is self-service terminal intended for provision of self-service at petrol stations. It has wireless communication and is equipped with a built-in display, keyboard, RFID-reader and iButton-tags reader, which allows it to be used for following purposes:
preset of order to be dispensed from fuel dispensers
application of fuel cards (identification of customers, displaying of current card's balance and limits, operations with cards and accounts)
identification of fuel attendants
self-service at petrol station
 

 

Terminal "Signal-1" has explosion-proof case with 1ExibIIBT4 marking and can be mounted on fuel dispenser (pump). Terminal "Signal-1" works in a structure of NaftaPOS system for petrol stations and also can be integrated with NaftaCards fuel cards system. Terminal "Signal-1" communicates to NaftaPOS software through a radio-frequency hub "Signal-K".

The terminal gives the following advantages compared to "traditional" way of petrol station operation, equipped only with POS system:
decreasing of time on customer service due to remote identification and automated processing of requests on fuel dispensing
simplification of settlements between petrol station and corporate customers using fuel cards
reinforcement of fuel consumption control by corporate customers, exclusion of misuse possibilities
Besides petrol station the terminal "Signal-1" can be applied for provision of wireless identification of fuel attendants or corporate customers on other industrial, trade or transport sights.
APPLICATION
One Terminal can be configured to service all fuel dispensers or any particular fuel dispenser (if installed on the fuel dispenser side). Sequence of customer servicing by Terminal (operation algorithm) can be further developed upon request.

Terminal "Signal-1" can have a unique address in range from 1 to 15, which can be set using a DIP-switch. "Signal-1" responses to requests, which sent only to its address. Data exchange between terminal "Signal-1" and RF- hub "Signal-K" is done using wireless interface in non-licensed frequency range on 868 MHz in accordance with standard IEEE Std 802.15.4™-2006. Power of separate transceiver is not more than 10 W, which in most cases allows to apply the terminal without necessity to get any licenses. Data from RF-hub "Signal-K" to any terminal "Signal-1" is transferred to distance up to 100 meters. Transferred data at transmission is protected from unauthorized access using AES-128 encryption-decryption method.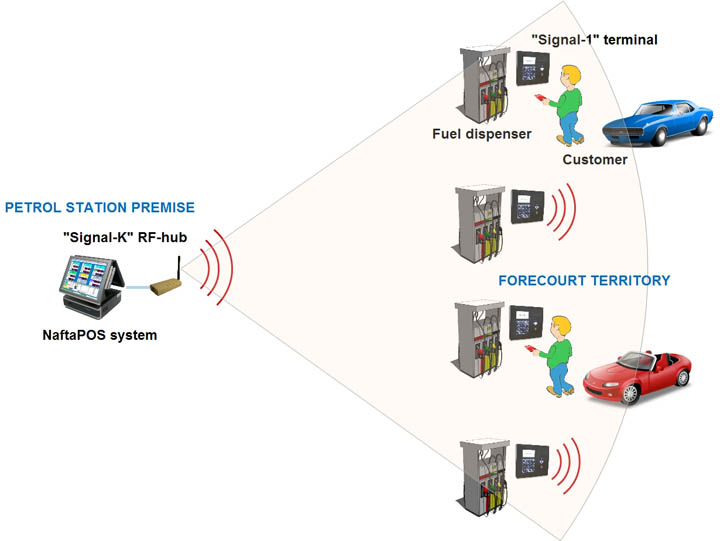 ORDER INFORMATION
 
Self-service terminal "Signal-1"
Order code: SIG-TRM-001
 
RF-hub "Signal-K"
Order code: SIG-HUB-001
 See relative products
| | | | |
| --- | --- | --- | --- |
| | Pumpheads - electronics and indicators | VRD-E card reader | Price boards for petrol stations |